CROPPING PATTERN-CROPPING SYSTEM
CROPPING PATTERN
Type and arrangement of crops in time and space is called cropping pattern.

It can also be defined as the proportion of area under various crops at a point of time in a unit area. It includes yearly sequence and spatial arrangement of crops and fallow on a given area.

The cropping pattern is determined by rainfall, climate, temperature, soil type and technology; thus it changes over space and time.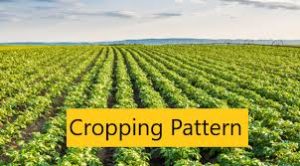 CROPPING SYSTEM
Cropping pattern and its management to derive benefits from a given resource base under specific environmental condition is called cropping system.

It is location specific, so it changes when place and environment are changed.

The objective of any cropping system is efficient utilization of all resources viz. land, water, solar energy etc. and to maintain stability in production and get higher returns.

Management practices along with planting geometry and genetic makeup of seed are primary pillars of any cropping system.
Also Read: Download New Aadhaar Card Free Here, Old Aadhaar Card Rejected
TYPES OF CROPPING SYSTEM
Mono cropping- It is a system of growing the same crop or a single crop on the same land year after year. It is also called monoculture or single cropping. Cropping intensity is thus always 100%.
Multiple cropping- It is defined as cultivation of two or more crops on the same field in a year without deteriorating soil fertility. It is the intensification of cropping in time and space dimensions both. Thus more crops within a year and more crops on the same piece of land during a single growing season. There are mainly four types of multiple cropping as described below:
Intercropping
It is the practice of growing two or more crops simultaneously on the same piece of land in a fixed ratio or with a definite row arrangement.e.g.Wheat + mustard = 9:1
Intercropping includes alley cropping, strip cropping, contour cropping, paired row cropping, parallel cropping, skip cropping etc.
Read also… Intercropping- Definition, Example, Benefits
Mixed Cropping
Cultivation of two or more crops simultaneously on the same land without any fixed row pattern.

Generally sowing of seed is done by broadcasting method and commonly practiced in dry land areas.
The main objective is to lessen the risk of total crop failure and to satisfy the farmers in food and fodder. So it is subsistence farming.
Sequence/Sequential cropping
It can be defined as growing of two or more crops in quick succession on the same piece of land in a farming year.

It means sowing of succeeding crop and harvesting of preceding crop is done in quick succession or may be done simultaneously.

Since there is no overlap between the two or more cropping, it is also called non-overlapping cropping. E.g. just after harvesting of maize, potato is sown, and just after digging of potato, chili is sown.
Relay cropping
Growing two or more crops simultaneously during the part of life cycle of each. Succeeding crop is planted before the harvesting of preceding crop.

It means 2nd crop is planted after the 1st crop has reached its reproductive stage of growth, but before it is ready for harvest.

For example potato is planted before the harvesting of maize, and radish is sown before harvesting of potato.

Paira (Bihar & West Bengal) and Utera (M.P) cropping is the example. Since there is overlap between two or more crops, hence is called overlapping cropping.
FACTORS AFFECTING CROPPING PATTERN
The cropping patterns are affected by-
changes in agrarian policy,

availability of agricultural inputs,

and improvement in technology.

Thus, the cropping patterns are beneficial in improving the fertility of the soil, thereby, increasing the yield of the crops. It ensures crop protection and availability of nutrients to the subsequent crops.
Read more..
CROP ROTATION- CHOICE & BENEFITS
SUBSISTENCE FARMING-HISTORY & TYPES
WHAT IS IRRIGATION- DIFFERENT METHODS
WHAT IS SOIL EROSION- TYPES & MECHANISM
INTEGRATED FARMING SYSTEM
WHAT IS ORGANIC FARMING