SOIL STRUCTURE- FORMATION & TYPES
DEFINITION
Soil structure can be defined as the arrangement of soil particles (sand, silt, and clay) and their aggregates into certain defined pattern.
Single particles when assembled, appear as larger particles and known as aggregates. Further individual aggregates are called peds. Aggregation of soil particles can occur in different patterns, resulting in different soil structures. The circulation of water in the soil varies greatly according to structure.


Also Read: Download New Aadhaar Card Free Here, Old Aadhaar Card Rejected
SOIL STRUCTURE FORMATION
Soil structure is most usefully described in terms of grade (degree of aggregation), class (average size) and type of aggregates (form). In some soils, different kinds of aggregates may be found together and they are then described separately.


Aggregation is the result of the interaction of soil particles through rearrangement, flocculation and cementation. The aggregate formation is influenced by the amount and nature of colloidal clay. The nature of adsorbed cations also influences aggregate formation, for example Ca++ and H+ have better aggregation ability in comparison to Mg2+ and K+. Iron and aluminum oxides act as cementing agents to form aggregates.


The quality of soil structure declines under most forms of cultivation, and continued cultivation and traffic is the development of compacted, impermeable layers or 'pans' within the profile. The decline of soil structure under irrigation is usually related to the breakdown of aggregates and dispersion of clay material as a result of rapid wetting. This is particularly if, soils are sodic due to having a high exchangeable sodium percentage (ESP) of the cations attached to the clays. High sodium levels cause particles to repel one another when wet, and the associated aggregates to disaggregate and disperse. The ESP will increase if irrigation causes salty water to gain access to the soil.
 To preserve and improve soil structure, a wide range of practices are recommended. For instance, increasing organic content by incorporating pasture phases into cropping rotations, reducing tillage and cultivation in cropping and pasture activities; avoiding soil disturbance during periods of excessive dry or wet etc. That is why, in irrigated agriculture, it may be recommended to apply gypsum (calcium sulfate) to displace sodium cations with calcium and so reduce ESP or sodicity to avoid rapid wetting and avoid disturbing soils when too wet or dry.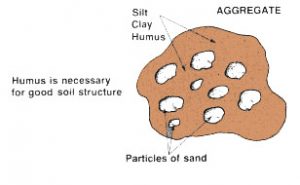 GRADES OF SOIL STRUCTURE
The grade of structure is the degree of aggregation, expressing the differential between cohesion (within aggregates) and adhesion (between aggregates). As these properties vary with the moisture content of the soil, grade of structure should be determined when the soil is neither unusually moist nor unusually dry.
There are four major grades of structure rated from 0 to 3.
1. 0 (Structure less) – It has no aggregation or no definite arrangement of natural lines of weakness, such as:
Massive structure– Individual particles adhere closely to each other but the mass lacks planes of weakness.
Single-grain structure (non-coherent) – Where the individual soil particles shows no tendency to cling together, such as pure sand; Weak structure is poorly formed from indistinct aggregates that can barely be observed in place. The movement of air and capillary water is highest. Such structure is found mostly in sandy soil.
2. Moderate structure–is well formed from distinct aggregates that are moderately durable and evident but not distinct in undisturbed soil. When removed from the profile, the soil material breaks down into a mixture of many distinct entire aggregates, some broken aggregates and little unaggregated materials.
3. Strong structure– is well formed from distinct aggregates that are durable and quite evident in undisturbed soil. When removed from the profile, the soil material consists very largely of entire aggregates and includes few broken ones and little or no non-aggregated material.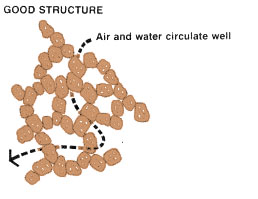 TYPES OF SOIL STRUCTURE
Platy– The units are flat and plate like. They are generally oriented horizontally and occur in recently deposited clay soils and surface layer of virgin soil. Sometimes also found in horizon "B".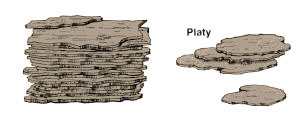 2. Prismatic– such type of structure is found in "B" horizon of clayey soil in arid and semi-arid regions. These are vertically oriented aggregates in which, individual units are bounded by flat to rounded vertical faces. Units are distinctly longer vertically and the faces are typically casts or molds of adjoining units. Vertices are angular or sub rounded and the tops of the prisms are somewhat indistinct and normally flat.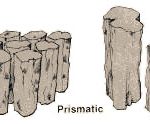 3. Columnar– The units are similar to prisms and bounded by flat or slightly rounded vertical faces. The tops of columns, in contrast to those of prisms, are very distinct and normally rounded.


4. Blocky structures– These are soil particles that cling together in nearly square or angular blocks having more or less sharp edges. Relatively large blocks indicate that the soil resists penetration and movement of water. They are commonly found in the B-horizon where clay has accumulated. In cube like block structure, edges are sharp and distinct regular faces. While in sub-angular blocky, faces are a mixture of rounded and plane faces and the corners are mostly rounded.



5. Granular and crumb structures– These are most favorable structure for plant growth. These are individual particles of sand, silt and clay grouped together in small, nearly spherical grains. Water circulates very easily through such soils. They are commonly found in the A-horizon of the soil profile. Rounded aggregates not more than 2 cm in diameter are called granules, and when granules are especially porous called crumb.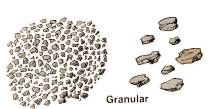 Read more..
SOIL PROFILE- DIFFERENT HORIZONS
SOIL TEXTURE- CLASSIFICATION & INFLUENCE
FORMATION OF SOIL-PROCESS & FACTOR OF SOIL FORMATION
SOIL TYPES IN INDIA: FEATURES
DIFFERENCE BETWEEN MANURE AND FERTILIZERS
TYPES OF FARMING- SYSTEM OF FARMING
CROPPING PATTERN-CROPPING SYSTEM