SOIL TEXTURE- CLASSIFICATION & INFLUENCE
INTRODUCTION

The relative proportion of sand, silt and clay is called soil texture, since it is concerned with the size of mineral particles.
The primary particles of sand, silt, and clay make up the inorganic solid phase of the

soil

. These particles often become aggregated together with each other and other parts of the soil, most importantly soil organic matter.
The size of particles in mineral soil is not subject to ready change by cultural practices. Thus it is considered as a

permanent feature and a basic property of soil

.
Mechanical analysis of soil separates i.e. the percentage of sand, silt and clay is done by Hydrometric method.


CLASSIFICATION
Twelve major soil texture classifications are defined by the United States, Department of Agriculture. They are sand, loamy sand, sandy loam, loam, silt loam, silt, sandy clay loam, clay loam, silty clay loam, sandy clay, silty clay, and clay.

Soil textures are classified by the fractions of each soil separate (sand, silt, and clay) present in a soil. Classifications are typically named for the primary constituent particle size or a combination of the most abundant particles sizes, e.g. "sandy clay" or "silty clay". A fourth term, loam, is used to describe equal properties of sand, silt, and clay in a soil sample.

Loamy soils are best for agricultural production because they retain more water and nutrients than sandy soil and have better drainage, aeration and tillage properties than clay soils.

Determining soil texture is related to use of a soil texture triangle. An example of a soil triangle is illustrated below: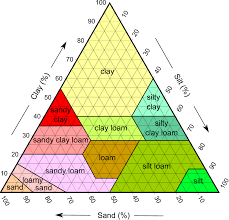 One side of the triangle represents percent sand, while the second side represents percent clay, and the third side represents percent silt. If the percentages of sand, clay, and silt in the soil sample are known, then the triangle can be used to determine the soil texture classification.
For example, if a soil is 70% sand and 10% clay then the soil is classified as a sandy loam. The same method can be used starting on any side of the soil triangle. Chemical and physical properties of a soil are related to texture. Particle size and distribution will affect a soil's capacity for holding water and nutrients. Fine textured soils generally have a higher capacity for water retention, whereas sandy soils contain large pore spaces that allow leaching.
the proportion of predominant size of fractions of sand, silt and clay is the basis for classification of soil texture.
SOIL SEPARATES
Soil separates are specific ranges of particle sizes.

The smallest particles are clay particles having diameters of less than 0.002 mm. Clay particles are plate-shaped instead of spherical, allowing for an increased specific surface area.

The next smallest particles are silt particles and have diameters between 0.002 mm and 0.05 mm.

The largest particles are sand particles and are larger than 0.05 mm in diameter. Furthermore, large sand particles can be described as coarse, medium, and the smaller as fine.


Diameter limits (mm)
(USDA classification)

Diameter limits (mm)
(WRB classification)

INFLUENCE OF SOIL TEXTURE
Soil texture influences soil physical and chemical properties like water holding capacity, nutrient retention, nutrient fixation, nutrient availability, drainage, strength, compressibility and thermal regime.
The clay imparts cohesion and stickiness and fine texture to the soil and induces resistance to the passage of implements, and called heavy soil. Sandy soil offers little resistance to implements and is called light soil.

Read more..
FORMATION OF SOIL-PROCESS & FACTOR OF SOIL FORMATION
SOIL TYPES IN INDIA: FEATURES
SOIL PROFILE- DIFFERENT HORIZONS
SOIL STRUCTURE-DEFINITION,TYPES & IMPACT
WHAT IS SOIL EROSION- TYPES & MECHANISM
TYPE OF ROCKS- DEFINITION & EXAMPLES
MULCHING MEANING- TYPES & USAGE