System of Rice Intensification
The System of Rice Intensification (SRI) is a farming method aims to increase the yield of rice using fewer resources and reducing environmental impacts.
In this method, Soil, water, plants, and nutrients management are changed so as to create a more productive and sustainable system of rice cultivation.
History of SRI
The method was developed by a FrenchJesuit Father Henri de Laulanié in Madagascar. He used planting single seedlings and with wider spacing, using less water, and providing more nutrients to the plants through organic matter. These methods showed significant improvements in rice yields, and Father Laulanie's approach eventually became known as SRI.

Over the 1990s, Norman Uphoff from Cornell University in the United States learned about SRI and began promoting its adoption in other parts of the world. Uphoff and his colleagues found that SRI methods could significantly increase rice yields, reduce water use by up to 50%, and decrease seed requirements by up to 90%.

In India, SRI has been widely adopted by smallholder farmers and has helped to improve rice productivity and increase farmers' incomes.
Principles and Practices of SRI
Season: Dry season with assured irrigation is more suitable.
Varieties: Hybrids varieties with heavy tillering.
Seed rate: 7- 8 kg / ha for single seedling per hill.
Nursery Management:
Required nursery area is 100 m2/ha.

Use well decomposed FYM.

For raised beds @ 1 x 5 m and 20 beds are required for 1 ha.

Powdered DAP may be applied @ 95g/raised bed in total 1.9 kg should be used.

Spread polythene sheets over the beds and fill the soil evenly on the Polythene sheets upto 4cm.

Seed treatment can be done with Pseudomonas 10g/kg seed.

75g Azophos biofertiliser/kg seed.

Uniformly spread 375g of seeds in each 5 sq.m. Nursery bed.

Watering through rose can is advisable.

Cover the seed bed using mulching materials like straw.
Main field preparation
Summer ploughing.

Flood the field 1 or 2 days before ploughing and allow water to soak in. Keep the surface of the field covered with water.

Keep water to a depth of 2.5cm at the time of puddling.

Good leveling of the main field is essential. Field drainage is also important.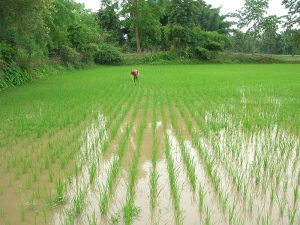 Transplanting
14-days old seedlings (3 leaves stage) recommended for transplanting.

The seedling along with the intact soil with the roots should be removed and planted immediately.

If the nursery bed is properly prepared with sufficient organic manure, the seedling growth will be good to handle.
Plant Spacing
Square planting at 25 x 25cmensures optimum space for efficient utilization of resources.

Place single seedling at intersecting points marked with the marker.

Place the seedling without plunging too deep into the soil.
Nutirent Management
Apply 12.5 t of FYM or compost or green leaf manure @ 6.25 t/ha.

Organic manures addition is recommended in SRI cultivation.

Apply fertilizer nutrients as per soil test recommendations.

N dose may be through Leaf Color Chart (LCC).

P & K may be through Site Specific Nutrition Management.

Depending on the necessity, top dress with chemical fertilizers.
Water Management
Water management is one of the critical steps in SRI and provision of aerobic environment in rice fields is the core point in SRI. Water saving in this system is 40-50% from planting to harvest.
Regular water application to keep soil moist but not saturated.

Intermittent wetting and drying for adequate aeration during vegetative phase.

Relatively frequent watering after vegetative phase.

No water stagnation at any stage.
Use of Weeder
Using weeder is of primary importance in SRI. Use simple rotary weeder between crop rows in both the directions starting from 10 days after planting.

About four rotary weedings at 10 to 15 days interval could be adequate till panicle initiation.

Critical Steps in SRI
Nursery Area & Seed Rate
Seed Rate= 7-8Kg/hac.

Nursery area =100m2 / ha.

For raised beds @ 1 x 5 m and 20 beds are required for 1 ha.

Spread polythene sheets over the beds evenly and fill the soil evenly over the Polythene sheets upto 4cm.

Uniformly spread 375 g of seeds in each 5 sq.m. Nursery bed.

Watering through rose can is advisable.

Cover the seed bed with mulching materials like coirpith/straw
Age of seedling
14-days old seedlings (3 leaves stage) for transplanting.
Water management
Alternate wetting and drying.

Irrigation only to moist the soil in the early period of 10 days.

Restoring irrigation to a maximum depth of 2.5cm after development of hairline cracks in the soil until panicle initiation.

Increasing irrigation depth to 5.0 cm after Panicle initiation one day after disappearance of ponded water.
Weeding
Square planting eases the cono/rotary weeder operation in two directions, and thereby weed management. In SRI, weeder should be used at 10 days interval from the date of transplanting.

Weeds are trampled and on decay the nutrient are ploughed back to the soil.

Soil is frequently disturbed which has beneficial physico chemical – biological results in soil.

Root pruning triggers the tillering that results in bursting out of tillers.

Water level should be properly monitored for usage of weeder.

It is important to remove the left out weeds by hand.
Advantages of SRI
Low seed rate: Since single seedling is planted at wider spacing, Seed rate is only 7-8 kg per hectare.

Requirement of less nursery area and less nursery duration.

Increased tillering: 30 tillers per plant are easy to achieve.

Profused root growth.

Improved grain filling.

Water Savings: SRI results in water savings to an extent of 35 to 40 % compared to conventional method.

Less Lodging.

Fewer incidences of pests and diseases.

Reduced chemicals fertilizer

Increase grain Yield.

Reduced rodent damage in the field.

Higher net profit.
Constraints
Labour intensive and also require greater skill for transplanting. Therefore, not suitable for large scale production.

SRI method requires strict water control practices.

Weed menace is relatively higher than conventional transplanting.

Traditional mindset of the farmers.

Lack of awareness about the technology.

Non availability of critical implements like marker and weeders.

Lack of co-operation from the transplanting labourers.