SEED MEANING- FUNCTION & IMPORTANCE
MEANING OF SEED
General meaning of seed is anything that can be sown, or any part of the crop from which a new crop can grow.
Agronomically, seed or seed material is any living organs of the crop in rudimentary form that is used for propagation.
Botanically, seed is a fertilized ovule with an intact embryo, stored food and seed coat which is viable and having capacity to germinate.
The formation of the seed is part of the process of reproduction in seed plants, the spermatophytes, including the gymnosperm (group of plants which produce seeds that are not contained within an ovary, or fruit as seeds are open to the air and are directly fertilized by pollination) and angiosperm plants (vascular plants with seeds, fruit, and flowers for reproduction.)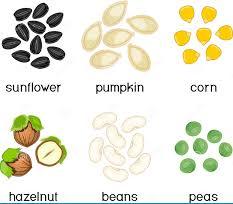 FUNCTION OF SEED
Though, seed performs several functions but the main functions include-
Nourishment of the embryo,

Dispersal to a new place and

Dormancy

during unfavorable conditions.
Seeds fundamentally are means of reproduction, and most seeds are the result of sexual reproduction.
IMPORTANCE
Edible seeds and Oil- Many seeds are edible and also provides cooking oils. Cereals, legumes and nuts provides much calories and proteins. Seeds are source of beverages, spices and some important food additives.

Seeds are used to propagate many crops.

Seeds are also fed to animals and birds.

Many important non-food oils are extracted from seeds. Linseed oil is used in paints.

Seeds are the source of medicines.
Read more
SEED GERMINATION-PROCESS & FACTORS OF GERMINATION
SEED DORMANCY- DEFINITION, TYPES & IMPORTANCE
SEED DISPERSAL- TYPES AND IMPORTANCE
TYPES OF SEED- STRUCTURE & FEATURES
SEED CLASSES- TYPE AND FEATURES