REPRODUCTION IN PLANTS-TYPES & USE
INTRODUCTION
Reproduction in plants refers to production of new offspring in plants which can be either asexual or sexual methods.
Sexual reproduction is the production of new offspring by the fusion of gametes and produces offspring genetically different from the parents. Whereas, Asexual reproduction produces new individuals without the fusion of gametes, genetically identical to the parent plants and each other, except mutation occurs.


ASEXUAL REPRODUCTION
Asexual reproduction does not involve fusion of male and female gametes or say no fertilization. Only one parent is required, unlike sexual reproduction which needs two parents. Thus there is no mixing of genetic information. As a result, the offspring are genetically identical to the parent and to each other. They are called clones.





Bacteria reproduce asexually. This method may occur through Binary Fission, budding, fragmentation, spore formation, Regeneration and vegetative propagation. Plants have two main types of asexual reproduction in which new plants are produced that are genetically identical clone of the parent plants.




Vegetative reproduction involves a vegetative part of the parent plant (budding, tillering), etc. and is distinguished from apomixis which is likely of sexual reproduction.

Most plant species that employ vegetative reproduction do so as a means to perennialize the plants, allowing them to survive from one season to the next and often facilitating their expansion in size.

A plant that persists in a location through vegetative reproduction of individuals constitutes a clonal colony; genetically identical to all others in the same colony. However, in vegetative reproduction, the new plants that result are new individuals in almost every respect except genetic makeup.

A major disadvantage to vegetative reproduction is the transmission of pathogens from parent to offspring; that is uncommon in sexual reproduction or in apomixis.


Usage

The most common form of plant reproduction utilized by people is seeds. Some asexual methods are: cutting, grafting, budding, layering, division, sectioning of rhizomes, roots, tubers, bulbs, tillers etc.


Asexual methods are most often used to propagate cultivars with individual having some desirable characteristics that do not come from seed.


Fruit tree propagation is mainly performed by budding or grafting desirable cultivars onto root stocks that are also clones, propagated by stooling.


Grafting– Here a stem or bud is joined onto a different stem. The most common usage of grafting is the propagation of cultivars onto already rooted plants, sometimes the root stock is used to dwarf the plants or protect them from root damaging pathogens.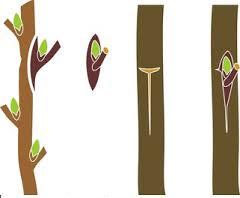 Cutting– Means branch that has been cut off from a mother plant below an inter-node and then rooted, often with the help of a rooting liquid or powder containing hormones.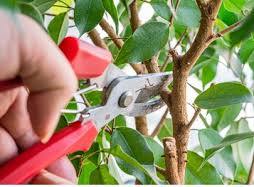 Since vegetative propagated plants are clones, they are important tools in plant research. When a clone is grown in various conditions, differences in growth is due to environmental effects instead of genetic differences.


SEXUAL REPRODUCTION
Among plants, it is used most notably by flowering plants. The pollen grains of flowers contain the sperm. The female reproductive organ in the base of the flower (pistil) contains the eggs. When the pollen grains land on top of the pistil, they make a pathway to the eggs. Each zygote develops into a seed that, when in soil, can grow into a new plant.
Sexual reproduction involves two fundamental processes:
Meiosis

(rearrangement of

genes

 and reduction in chromosome number) and fertilization, which restores the chromosome to a complete diploid number.
The gametophyte is the multicellular structure (plant) that is haploid, containing a single set of chromosomes in each cell. The gametophyte produces male or female gametes (or both), by a process of cell division, called mitosis.
In vascular plants with separate gametophytes, female gametophytes are known as mega gametophytes (mega=large, they produce the large egg cells) and the male gametophytes are called micro gametophytes (micro=small, they produce the small sperm cells).
The fusion of male and female gametes i.e. fertilization produces a diploid zygote, which develops by mitotic cell divisions into a multicellular sporophyte.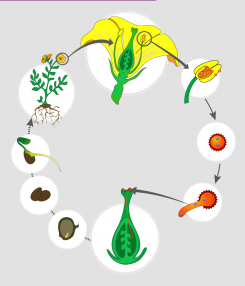 Pollination–  is the act of transferring pollen grains from the male anther of a flower to the female stigma. One of the ways that plants can produce offspring is by making seeds.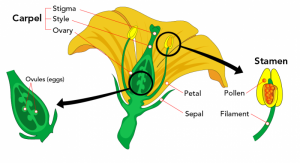 Seeds contain the genetic information to produce a new plant and flowers are the tools that plants use to make their seeds.

Read more..
WHAT IS POLLINATION- PROCESS & MECHANISM
SELF POLLINATION- MECHANISM & CONSEQUENCES
CROSS POLLINATION- MECHANISM AND CONSEQUENCES
WHAT IS HYBRIDIZATION-FACTS, AIM & TYPES
PLANT HORMONES- FACTS, TYPES & EFFECTS
DIFFERENCE BETWEEN DIFFUSION AND OSMOSIS