AGRICULTUR IN BIHAR-AT A GLANCE
OVERVIEW
Bihar is located in the eastern part of India (between 83°-30′ to 88°-00′ longitude), surrounded by Nepal in the north, West Bengal in the east, Uttar Pradesh in the west, and Jharkhand in the south.

76% of its population is engaged in agricultural pursuits. Bihar has-


Total geographical area= 93.60 lakh hectare,
Net cultivated area= 56.03 lakh hectare,
Gross cultivated area= 79.46 lakh hectare.
Also Read: Download New Aadhaar Card Free Here, Old Aadhaar Card Rejected
About 33.51 lakh hectare net area and 43.86 lakh hectare gross area receive irrigation from different sources. The tube well accounts approx. 66% whereas canal accounts for 31%

Principal food crops are paddy, wheat, maize and pulses. Main cash crops are sugarcane, potato, tobacco, oilseeds, onion, chillies and jute.

Bihar has notified forest area of 7380.79 sq. km, which is 7.84% of its geographical area as per FSI report 2021.

Bihar is divided by river Ganges into two parts, the north Bihar with an area of 53.3 thousand square km and the south Bihar having an area of 40.9 thousand square km.

Based on soil characterization, rainfall, temperature and terrain, three main agro-climatic zones in Bihar have been identified. These are:




Zone-I (North West Alluvial Plain) – 13-districts




Zone-II (North East Alluvial Plain) – 8-districts




Zone-III A (South East Alluvial Plain) and Zone-III B (South West Alluvial Plain) – 17-districts.

There are wide climatic variations in the three zones in Bihar. The north-east zone receives the highest rainfall ranging between 1200 and 1700 mm, the southern part the least, ranging between 900 and 1300 mm and the north-west an average of 1040–1450 mm. kishanganj receives highest rainfall.

Though endowed with good soil, adequate rainfall and good ground water availability, Bihar has not get realized its full agricultural potential. Its agricultural productivity is one of the lowest in the country, leading to rural poverty, low nutrition and migration of labour.

Bihar is the third largest producer of vegetables and fourth largest producer of fruits in the country.

It is the largest producer of Litchi, Makhana, Guava, Lady's finger in India. The state already exports Litchi, Basmati rice and snow pea.

Agricultural growth in the state is supported by institutional infrastructure of Rajendra Agricultural University, Pusa (Samastipur)and its network of Krishi Vigyan Kendra, ICAR eastern zone complex at Patna, National Research Centres for Litchi, Makhana and Pan. Small Farmer's Agri-business Consortium (SFAC) and Agricultural Technology Management Agency (ATMA) are others institutions supporting Agricultural growth in the State.
There are three major types of soil in Bihar i.e. Piedmont Swamp Soil (found in West Champaran district), Terai Soil(found in northern part of the state along the border of Nepal), Gangetic Alluvium (the plain of Bihar is covered by gangetic alluvium both new/Khadar as well as old/Bangar).
The state was awarded the Krishi KarmanAward for rice production in the year 2013 and for maize production in 2016. The Government of India has conferred the "Krishi Karman Award" to the state on 2nd January 2020, for its achievements in production and productivity of Maize and Wheat.

According to the Water Resource Department, around 76% of the population in northern Bihar is subject to floods whereas southern Bihar is prone to severe drought.

Agriculture is dominated by small and marginal farmers. As per Agricultural Census (2015–16), marginal farmers accounted for 91.21% of the holdings and 57.73% of the area. Small farmers constituted 5.75% of the holding and cultivated 18.25% of the area. The high density of rural population is the major factor leading to fragmentation of holdings in the state.

Cropping Pattern– Rice is the dominant kharifcrop and wheat, the most important rabi Maize has been rising in importance, changing cropping pattern in Bihar are an expansion of acreage under maize, a decline in the acreage under rice and pulses and an increase in the acreage under sugarcane.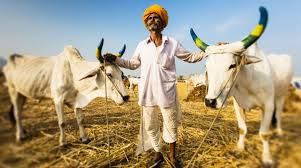 AGRO-CLIMATE CONDITION
Total geographical area of Bihar is about 94.2 thousand square km. It is divided by river Ganges into two parts i.e. the north Bihar with an area of 53.3 thousand square km and the south Bihar having an area of 40.9 thousand square km.
Based on soil characterization, rainfall, temperature and terrain, four main agro-climatic zones in Bihar have been identified (described below).
Zone I and II is flood prone whereas, zone III is drought prone. Across the state soil texture is varies from sandy loam to heavy clay. However the majority type belongs to loam category which is good for crop cultivation.

Bihar gets its maximum rainfall during South-West monsoon season which prevails from June to September. The average rainfall of Bihar is around 120 cm.

Soil PH varies from 6.5 to 8.4. There are three crop seasons- Kharif, Rabi and Zaid. Rice, wheat and pulses are grown in all the districts however the choice of the crop and crop rotation varies across the agro climatic zone. As far as soil resources are concerned Bihar has three types of soil: montane, alluvium and marshy/swampy soil of Tarai.

Being located between 25 to 27 degree North latitude, the climate of Bihar is of mostly sub-tropical. Average temperature is 35-40 degree Celsius throughout the summer months. December to January is the winter season in Bihar because of its location is Northern hemisphere. The winter in Bihar is mild with average temperature being 5 to 10 degree Celsius.

The detailed description about the agro climatic zone is as follows.
Name of the districts under each Agro-Climatic Zone
Agro- climatic zone I

(Northern West)

West Champaran, East Champaran, Siwan, Saran, Sitamarhi, Sheohar, Muzaffarpur, Vaishali, Madhubani, Darbhanga, Samastipur, Gopalganj, Begusarai

Agro-climatic Zone II

(Northern East)

Purnea, Katihar, Saharsa, Supaul, Madhepura, Khagaria, Araria, Kishanganj.

Agro-climatic zone IIIA

(Southern East)

Sheikhpura, Munger, Jamui, Lakhisarai, Bhagalpur & Banka.

Agro-climatic zone IIIB

(Southern West)

Rohtas, Bhojpur, Buxar, Bhabhua, Arwal, Patna, Nalanda, Nawada, Jehanabad, Aurangabad, Gaya.
IMPORTANT PHYSIOGRAPHIC FEATURES OF THE AGRO-CLIMATIC ZONE
Agro- climatic zone I
(Northern West)

Agro-climatic Zone II
(Northern East)

Agro-climatic zone III
(Southern East & West)

Sandy loam, Clay loam, loam, Clay

Available Nitrogen (Kg./Ha.)

Available Phosphorus (Kg./Ha.)

Available Potash (Kg./Ha.)
Source- Dpt. of Ag. Govt. of Bihar
PHYSIOGRAPHY AND SOIL
Agro- Climatic Zone I: 
The lands of this zone which are alluvial plains sloppy towards the south east direction with a very low gradient as evidenced by the direction in which the rivers flow. However, the rivers move eastward direction along the natural levee before they finally meet the Ganga. As a result, there are vast waterlogged areas in the districts of Saran, Vaishali and Samastipur.Due to near flatness of the landscape, vast area gets flooded during rains. The north-eastern portion of this zone, the "Don Hills valleys" is glacial hills and valleys. Except for the northern portion and west portion, the entire zone is under the influence of rivers like Gandak, Burhi Gandak and Ghaghra, all of which originate in the lime rich foothills of the Himalayas. Thus, the soil under the influence of Gandak, Burhi Gandak and Ghaghra are mostly calcareous having different amounts of lime in them.The soils of Siwan and Gopalganj districts with less rainfall and more pronounced dry seasons have developed salinity as well as alkalinity. Similarly, the soil of nearly flat lands of East and West Champaran, Muzaffarpur are also salt affected. The soils of the northern part not under the influence of the above rivers are neutral, acidic or saline depending on the micro-relief and local physiography.
This zone has the following six broad soil association groups:
Sub-Himalayan and forest soils

Recent alluvial tarai soils

Young alluvial calcareous soils

Young alluvial calcareous saline soils

Young alluvial non-calcareous, non-saline soils, and

Recent alluvial calcareous soils
As all the rivers and rivulets originate in the high Himalayas, dominated by mechanical weathering of rocks, the soils are mostly light to medium light textured except those away from the direct influence of the rivers. The upland soils are well drained to moderately well drained. The medium low lands and the low lands soils, although of good to moderate permeability, have become some what poorly drained due to high water table in the areas. The soils are moderately rich to poor in nitrogen (especially in Gopalganj and Siwan districts), moderate to very low in available phosphorus and medium to high in available potash. The soils are showing symptoms of deficiency of zinc and iron mostly induced by high available calcium.
Agro- Climatic Zone II:


It covers the alluvial plains of Kosi, Mahananda and its tributes, and Ganga (a narrow strip in the south) is slightly undulating to rolling landscape mixed with long stretches of nearly flat landscape with pockets of areas having sub-normal relief. The area is full of streams with abandoned dead channels of Kosi River, which becomes notorious for its frequent and sudden change of courses forming small lakes and shallow marshes.In the south, in between the natural levees of Ganga, on the one hand and Kosi and Mahananda on the other, there are vast areas which remain waterlogged for a considerable part of the year.Unlike the rivers Gandak and Ghaghra, Kosi and Mahananda originate and have catchments in Himalayan region, which are not calcareous but rich in acidic minerals. As a result, the soils of this zone are non calcareous, accumulation of sodium salts and sodium adsorption has taken place in areas where the drainage is poor. Salinity and alkalinity are, however, on an increase in Saharsa and western part of Purnea and Katihar districts. As both Kosi and Mahananda carry a tremendous load of sediments, the soil is mostly light textured except in backwaters of river Ganga and Kosi.
Three broad soil association groups have been identified in this zone are:
Recent alluvial tarai soil

Recent alluvial non calcareous soil, and

Recent alluvial calcareous soil.
The soils are very light to medium textured except for those in between the natural levees of Ganga and Kosi and Mahananda. Even the heavy textured soils under the influence of Kosi and Mahananda have sandy substratum below 40 to 100 cm depths. The soils are mostly moderately acidic to neutral. Very acidic soils are found in northeast parts with heavy rainfall and high permeability. The soils are excessively drained to poorly drained mainly depending on local physiography and depth of water table. Very poor to poor in nitrogen especially with the very light textured soils, very poor to medium in available phosphorus and potash. Deficiencies of zinc and boron and toxicity of manganese have been recognized in these areas.
Agro-Climatic Zone III:


This zone is the alluvial plains of river Ganga on its southern side and the sediments are received both from river Ganga and those flowing from the south having their origins in the Chhotanagpur Plateau, which rise abruptly from the plains.The land's slope is towards north east with gentle slope gradient and moderate to low gradient. In the south of the natural levee of the Ganga, there is vast stretch of backwaters known as "Tal" lands extending from Buxar to Pirpaity, where most of the rivers and rivulets coming from the south get lost. The flood plains of Ganga, which get reworked and get eroded and deposited at regular intervals, are lighter than "Tal" lands and are known locally as "Diara lands".The river originating from the Chotanagpur plateau brings a lot of fine sediments. The coarser sediments that they bring are either deposited in their beds or on their banks and as a consequence, the soils are mostly medium to heavy textured throughout the depth of the profile. There are no marshy lands in this zone.
The main broad soil association groups recognized in this zone are:
Recent alluvial calcareous soils

Tal land soils, light grey, dark grey medium to heavy textured soils

Old alluvial reddish yellow, yellowish grey centenary soils.

Old alluvial grey, grayish yellow, heavy texture soils with cracking nature,

Recent alluvial yellowish to reddish yellow non calcareous non saline soils.

Old alluvial yellowish to red yellow soils of foot hills, and

Old alluvial saline and saline alkali soils.
The soils of this zone except that of 'Diara' area and 'Tal' lands are moderately well drained to somewhat poorly drained, moderately acidic to slightly alkaline and medium textured to heavy textured soils. The soils are poor to moderate in nitrogen and poor to moderately rich in available phosphorus and potash.
The soils of 'Tal' lands are highly clayey throughout their depths, grey to dark grey in colour, neutral to slightly alkaline in reaction. These soils are moderately rich in nitrogen, available P and K and very hard under normal conditions.
The Diara land soils with their undulating landscapes are generally very light to medium heavy textured but all underlain by sandy layers within 80 to 100 cm of their surface and very well drained to moderately well drained, neutral to slightly alkaline in reaction. Their fertility status varies widely from poor to very fertile depending upon their physiographic positions but all are under moisture stress due to the occurrence of sandy substratum.
Land Utilization Pattern
Out of total geographical area, 57.12 lakh hectares is under cultivation which is around 60 per cent of the total. 21.70 lakh hectare area is put to cultivation more than once in a year. Therefore the Gross cropped area is 78.82 lakh hectares. The cropping intensity is 138 percent.
Land Use Classification
| | |
| --- | --- |
| | |
| | |
| Barren & non-cultivatable land | |
| Land put to non-agriculture uses | |
| | |
| | |
| | |
| Other fallow (2 to 5 years) | |
| | |
| | |
Cropping Intensity (138%)
Gross Cropped Area- 78.82 Lakh Hectares

Area sown more than once- 21.70 Lakh Hectares
Distribution of Operational Holdings
There are around 1.47 crore landholdings in the State of which around 91.06 percent are marginal holdings of size less than 1 hectare. This is major constraints to agriculture development in Bihar. The main source of irrigation is canal and tube well.
Agriculture Cropping Pattern
Cropping pattern is dominated by cereals. Rice-wheat cropping system occupies more than 70% of the gross cropped area. Pulses occupy around 7 percent of the gross cropped area. The important cropping sequence of different zones is:
| | |
| --- | --- |
| | Rice – Wheat, Rice – Rai, Rice – Sweet Potato, Rice – Maize (Rabi), Maize – Wheat, Maize – Sweet Potato, Maize – Rai, Rice – Lentil, Rice-linseed |
| | Jute – Wheat, Jute – Potato, Jute – Kalai, Jute – Mustard, Rice – Wheat – Moong, Rice – Toria |
| | Rice – Wheat, Rice – Gram, Rice – Lentil, Rice – Rai |
Horticulture
Considering versatile climatic feature of Bihar, there is huge potential to grow almost all the fruits.
Fruit Crops
The major fruit crops grown in Bihar are Mango, Guava, Litchi, Banana, etc. Minor crops like Makhana, Pineapple, Betelvine are also grown.
Almost all the districts of North Bihar particularly Muzaffarpur, East Champaran and Samastipur have good potentiality in respect of litchi cultivation. Similarly Makhana, a pioneer fruit of Bihar is also grown intensively in the districts of Darbhanga, Madhubani, Saharsa, Katihar, Araria and Purnea.
Vegetables
Almost all vegetable crops like solanaceous, cucurbits, beans, cole crops, okra, onion and other root crops are widely grown successfully in the state.
Spices
Chilli, Turmeric, Coriander, Ginger, Garlic & Methi are the major spices grown in Bihar.
Flowers
The major commercial flowers like Marigold, Rose, Tuberose, Gladiolus and Jasmine are cultivated in Bihar.
Aromatic Plants
The aromatic plants like Japanese Mint, Lemongrass, Pamaroja, J. citronella have been promoted by Horticulture Mission for commercial cultivation among farmers.
UNIVERSITIES AND COLLEGES IN BIHAR 
| | |
| --- | --- |
| Dr. Rajendra Prasad Central Agricultural University (RPCAU) | Bihar Agriculture University |
| Tirhut College of Agriculture, Dholi, Muzaffarpur | Bihar Agriculture College, Sabour, Bhagalpur |
| College of Fisheries, Dholi, Muzaffarpur | Bihar Veterinary College, Patna |
| College of Agricultural Engineering, Pusa, Samastipur | Sanjay Gandhi Institute of Dairy Technology, Patna |
| College of Home Science, Pusa, Samastipur | College of Horticulture, Noorsarai, Nalanda |
| College of Basic Sciences & Humanities, Pusa, Samastipur | Mandan Bharti Agriculture College, Agwanpur, Saharsa |
| | Veer Kunwar Singh Agriculture College, Dumraon, Buxar |
| | Bhola Paswan Shastri Agriculture College, Purnea |
| | Dr. Kalam Agriculture College, Kisanganj |
Department of Agriculture through its Directorates and with the technical guidance of the Agricultural Universities has act as delivering vehicle to reach the benefits of technological advancements as well as research findings to the last person down the line involved in farm activities.
The capacity building of farmers/extension functionaries/rural youth is one of the important activities performed by ATMA & KVK.
SWOT Analysis of Bihar Agriculture
| | | | |
| --- | --- | --- | --- |
| | | | |
| 1. The soils are light, alluvium - derived soils mostly khaddar (recent alluvium) and hanger (Old alluvium). In many places the soils are deep, loamy and high in organic matter content and hence very suitable for intensive cultivation. | 1. The average operational holding size is only 0.75 ha, which is further fragmented to 3–4 parcels. This makes farm operations difficult and economically unsustainable. | 1. By providing quality seed and planting material to farmers overall productivity can easily be increased 2–3 times. | 1. Due to land tenancy laws, the operational holdings will be further getting smaller which may reduce the scope for intensive agriculture. |
| 2. The state has high irrigation potential since water table is high. | 2. The population pressure in this region is exceedingly high. The population density is 1102/Sq.Km. as against the national average of 382/Sq.Km. Due to high density of population and less resources, more number of people are dependent on agriculture and the percentage of population below the poverty line is 42.60% as against the national average of 26.10%. | 2. The region receives good rainfall and the water table is high. By adopting proper water management practices the entire agricultural land can be converted into irrigated land, whereby maximum benefit can be derived from the quality seed of improved varieties | 2. At the interface of diminishing contribution of agriculture sector to the state GDP, there is a danger that the future allocations for agricultural development and more particularly for supply of quality seed material, may not get adequate priority in fund allocations |
| 3. Rice-Wheat cropping system is most predominant. The average rice yield in this region was found between 1,900–2,100 kg/ha and that of wheat between 2,740–2,770 kg/ha. However, according to the projections of Rice–Wheat Consortium, with good management it has a potential of giving more than twice the current yield. | 3. Although there are Directorates of Agriculture, Horticulture, Fisheries and Animal Husbandry, but their extension services in terms of creating awareness about new technologies, conducting field demonstrations, conducting training programmes and providing latest information to farmers are very poor. | 3. The area has good potential of growing good quality fruits and vegetables. The region has also high population density. By adopting scientific methods of production, making best use of agricultural labour force and by using proper Post-Harvest Technology at farm/village level, the production of horticultural crops can be increased many folds. | 3. The region has good rainfall but also receives floods during monsoon. Unless proper attention is given to proper soil conservation, drainage and water management programmes, the water logging and soil erosion problems may take serious turn in future and it would be difficult to maintain soil fertility. |
| 4. The region has good climate. Predominantly there are three seasons—hot summer (April–June), hot and humid rainy season (July–October) and cool dry winter (November–March). The growing period ranges from 180–210 days in a year. Two crops are common but with irrigation, third crop can also be taken during summer. | 4. The State does not have a clear-cut policy to encourage and promote use of quality seed of improved varieties in different crops, which is a major drawback of the state agriculture sector | 4. The region has good opportunity of seed processing activities in the production catchments for increased income and employment and to wipe out hunger and poverty. | 4. In absence of proper storage facilities, heavy losses is being incurred, may continue in future also. |
| 5. The rainfall in the region is appreciable, ranging between 1,050–1,300 mm. | 5. Although about 70% of the villages are electrified, but electricity is not available for more than 10 hours a day. The farmers cannot depend on electric supply for irrigation and other agricultural operations and are dependent on diesel engines. | 5. With proper infrastructural support the region can emerge as a big supplier of agri-products and can supply its produce to big markets of nearby states. | |
| 6. The region has a number of ICAR Research Institutes and their Regional Stations, Agricultural Universities, Centres of All India Coordinated Research Projects, and Krishi Vigyan Kendras to support the current and ensuing programmes | | 6. Availability of high quality planting material will encourage the production of high value crops substantially. | |
| 7. State has good potential for quality seed production of field crops, fruits and vegetables. | | | |
| 8. Working force is available at cheaper rate. | | | |

Source- Dpt. of Ag. Govt. of Bihar