Farmer is a person engaged in agriculture and raising livestock for food and other raw materials. In advance economics, someone who owns or takes care of farm is called a farmer. Though, a farmer may have farmed land or may work as a laborer on the farm owned by others.
Types of farmer
Categorization of farmer may be on the basis of what type of farming type and/or systems he practices, what he produces on his farm, ownership of agricultural land holding etc. And accordingly the nomenclature is suggested.
In India, on the basis of ownership of land holding, there are five types of farmers are classified.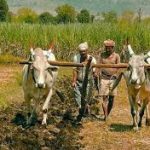 Marginal Farmers- Such farmers have less than 1 hectare land (<1hac) size class. Marginal farmers constitute about 60% of the total farm holding in India.
Small farmers- Such farmers have 1-2 hectare land size class.
Semi-medium– Land size class is 2-4 hectare.
Medium– Land size class is 4-10 hectare.
Large Farmers- Such farmers have land size 10 hectare or above.
India have majority of marginal farmers, even small farmers constitute about 18-20% only.  With a view to improve the condition of Small  and Marginal farmers and to double the income of farmers by 2022, Government is realigning its interventions from production-centric approach to farmers' income-centric initiatives, with focus on better and new technological solutions. These include implementation of schemes like, Pradhan Mantri Krishi Sinchai Yojana (PMKSY), Paramparagat Krishi Vikas Yojana (PKVY), Soil Health Card, Neem Coated Urea, Rainfed Area Development under National Mission for Sustainable Agriculture (NMSA), Pradhan Mantri Fasal Bima Yojana (PMFBY), National Agriculture Market scheme (e-NAM), National Food Security Mission (NFSM), National Mission on Oilseeds & Oilpalm (NMOOP), Mission for Integrated Development of Horticulture (MIDH), Rashtriya Krishi Vikas Yojana (RKVY), National Mission on Agriculture Extension & Technology (NMAET) etc.
 In addition, farmers are provided information through Focused Publicity Campaigns, Kisan Call Centres (KCCs), Agri­-Clinics and Agri-Business Centers (ACABC) of entrepreneurs, Agri Fairs and exhibitions, Kisan SMS Portal etc.
Read more..
KRISHI VIGYAN KENDRA
What is Agriculture-History of Agriculture
AGRICULTURE IN INDIA: Development & Present Scenario
TYPES OF FARMING- SYSTEM OF FARMING
INTEGRATED FARMING SYSTEM
WHAT IS ORGANIC FARMING
CROPPING PATTERN-CROPPING SYSTEM